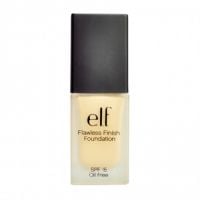 Too orange.....

I wish they had better and more color selection. I got this in Sand and the color was really orange. It didn't blend well and it left my skin splotchy in some areas. It has a very sheer coverage in my opinion. It doesn't have quite a matte finish or a dewy finish but more in the middle like a semi-dewy finish. Also, it has sort of a funky smell that I can't quite describe. It's not chemical or perfumey smelling but if you bought this, you will know what I mean.

Favorite Drugstore Foundation

I tried a few drugstore foundations before I discovered this one at Target. This is my favorite foundation. The color matches my skin perfectly (Sand). Great coverage and lasts throughout the day. I would have given it a 10, but the bottle is kind of small and the pump doesn't work all the time.

Perfect

I have honestly never bought a drug store foundation and this is yet to be my favorite!! It smells great and had great coverage!! I Look flawless with it.. I have little hormonal acne sometimes but the foundation still does the job!!