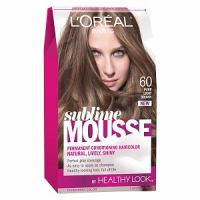 I likes!

I'm shocked to see such a low rating on this! I found this sublime mousee to be great! i didnt find any drips and my hair was evenly coated in the dye. for the price and results i fell in love! my hair was moisturized and evenly dyed!

DRIPS!

Ok, first off this stuff smells terrible-putrid. I just tried it on the tips because I couldn't stand the smell. I only tried it because it's new and they keep pushing the product- i caved because of the $3 off coupon. Waste.. it totally drips everywhere. I have black hair.

Fried my hair

I wish I had read the reviews before killing my hair with this stuff. I had seen it on clearance at Walmart and assumed it was due to a damaged box. Other haircolor I've used by Loreal has usually been good. The mousse was very easy to apply and the solution didn't drip or smell bad but that's where the pros end. My hair has never been so dry and damaged as it has after using this haircolor. Terrible. Don't do it.