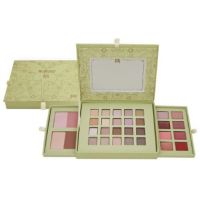 Pixi Wakeup Makeup Kit
As low as
this was a waste of my money

The Wakeup Kit by Pixi contains 2 Eyeshadow Primers, 18 Eyeshadows, 4 colors of blush, and 8 lipglosses. All of the eyeshadows are shimmery and one of the blushes is shimmery. Lets start with the blushes. These feel like suede. They are nice and soft and spread evenly. To much color I had to build the color, and it easily went away. When I applied it to my face over my powder foundation it did...read moren't want to stick and it barely appeared at all. Next up are the two primers on me they do not work. After about 4 hours I get deep creases in the shadow I've applied over them. They have a texture that at first feels like a lip gloss but once it is applied to the skin it feels like chalk. I think I will likely never use these two items ever again. Onto the eyeshadows. Each of the shadows has some shimmer to them. As to the formula... with any brand there is some variation from one color to the next as far as texture and blendability (within the same style of shadow for example pressed powder). These Pixi shadows are all over the place with formula changes as obvious as comparing Nars with Urban Decay. Some gave great coverage, but most were fairly sheer. Some felt chalky while others were smooth and luxurious. After being frustrated with the coverage of each of these I did determine that they can be used wet to create a foiled look that is NOT sheer and looks quite nice. The colors look much more true to the colors you see inside the palette when used this way. Finally we can get to the lip gloss. These are okayish glosses, fairly sticky, but they last for a good 1-2 hours. Like some of the eye colors it can take some digging to get the color out of the pot and onto your lip. They are all quite pretty, and go nicely with my skin tone. Mostly all the colors just give a tiny tint. To get any color to show up you'd need to get a ton of product on your lips. Will I use it? Barely. Will I buy more Pixi? No this one ruined the brand for me.

I love this!

The blushes are very soft in color that's the reason they call it wake up kit, just use a tinted moisturizer and use the best brush you have to pickup the color I find it it that the shadows are a little dusty but if you use a primer they work as good as any high end eyeshadows and they look amazing you only need to find good eye and blush brushes I would deffinetely recomend this!

Don't waste your money

Shadows and blushes are barely pigmented at all, don't last and the number of shades doesn't make up for the lack of quality in the formula.
Back
to top