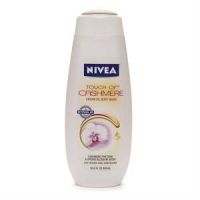 nice smell and feel

This is a very nice bodywash for the price. It smells really good though not my favorite nivea scent, and it leaves my skin feeling clean without drying it out. I have sensitive skin and some scents can irritate my skin I have never had a problem with any nivea bodywash scent. I like nivea bodywash and highly recommend if you are looking to try something new.

Beautifull smell

This has become one of my favorite body washes. It has a soft, gentle perfume scent that is in no way overpowering. The scent does linger on your skin after you shower and it's great. This body wash makes me smile. The smell, the feeling it gives your skin, it's all so lovely. It leaves your skin feeling so clean. It does what a body wash is supposed to do. The only place I can find this at curren...read moretly is Target. I do however wish that the price was a bit lower. Although it's a fantastic product, I really don't care for spending a lot of money on a body wash. It's between $4 and $5, but you do get a lot of product because the bottle is long. I would suggest this to anyone who wants to feel like a million bucks after they've washed themselves with this.

21 Best Soaps

Exclusively from the editors at Total Beauty

Get the Buying Guide to see these top-rated products!

Get it now »

Love the way it feels

I love the lather this body wash makes also the smell is amazing it's not that moisturizing as it claims but I do love it.
Back
to top