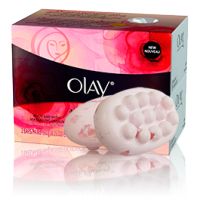 loooooove this

i love the design of this bar, it really does massage knots out of your body and smells heavenly, i will def be repurchasing this!

Olay Silk Whimsy massaging Design

This wasn't what I was after. I didn't like the massaging thing at all just hard to handle. It also just feel apart after a couple of uses and I had to throw it out because it was just yuck. I would not buy this again. I want something that will last longer then 2 showers. I bought a 4 pack and have on left in under 2 weeks.

The Best Soap

I bought the Olay Luscious Embrace massaging bar and I was very pleased. I loved the design and massaging effect of this soap. I also liked the orchid scent. Overall, I thought this soap was the best I've tried in a very long time. It made my skin super soft and I'll definitely buy it again!
Back
to top