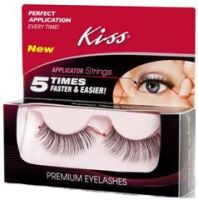 Kiss EverEZ Premium Eyelashes with Application Strings
As low as
Starter Kit W/Lashes is amazing

The starter kit comes with lashes, the glue, and tweezers to apply the lashes. Thank goodness for the plastic tweezers because this made the application of the lashes so much easier, I simply held the lashes with the tweezers, applied glue, slowly placed lashes on top of my natural lashes, with tweezers and fingers I made sure the lashes applied to lid and that's all! The glue actually lasted al...read morel day long, which is amazing! The lashes looked very dramatic yet natural as well, I received so many compliments the day I wore them! One con is that the glue did take a little bit to dry, which I can't say if it's average compared to other lash glues since I don't have much to compare. Overall I really liked these lashes and I will definitely continue to use them until it is time to buy a new pair!

kiss lashes w/application strings

I do not find these lashes any eaiser to apply than any of the others without the application strings. I've ended up applying evey pair I've worn thus after taking the EZapplication strings out.

SO EASY TO APPLY!

These lashes are the most amazing thing I have ever tried. I used to struggle so much with lash application and with the red strings it makes it a breeze. Thank you Kiss for making my life a million times easier.
Back
to top