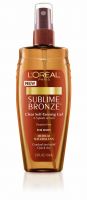 L'Oréal Paris Sublime Bronze Clear Self-Tanning Gel
As low as
I personally have not used this product

but I have used a lot of self tanners and as I said in a prior self tanner review, I swear by tan towels because they smell good and you have a lot of control over the application. I am giving this a high review because I took all of the courses in the L'Oreal Academy on line and this was one of the courses and seemed like a good product. You can get Tan Towels from their website or from HSN. Good luck.

I swear by this stuff!

This product is AMAZiNG! Have used many self tanners and this is by far the best! You get a beautiful golden brown colour after about 3 applications! No streaking and its not orange! I'm so glad I've found this product! A++ I will never set foot in a tanning bed again! :)

horrible!

i did not like this at all! i don't use sunless tanners very often, but thought i would try this to get a more gradual and natural looking tan on my legs. it did not work at all like it said it would. i've only used it once and it i can tell you it is not easy to apply and it is definitely not gradual OR natural looking. it sprayed on fine, but dried so fast once i started rubbing it in that i cou...read moreldn't tell if the application was even. the fact that the gel is clear made it even harder to tell. the smell was also very unpleasant. it is supposed to smell like citrus but to me it smelled exactly like the stinky armpits of my husband's dirty workshirts... yuck! at first i thought i did a pretty good job. i was very VERY careful and after an hour of drying my legs looked nice and warm and the tone was golden and even and i was very pleased with the result... but i woke up this morning to horribly orange, streaky, and splotchy legs - i am SO GLAD i decided not to do the rest of my body! i'm going to the beach with a bunch of friends in just a few days and now i have to figure out how to fix this mess! it might work better on someone with darker skin, or for someone who is an EXPERT at this kind of thing... but if you are new to sunless tanning or have fair skin like me, just stay away!
Back
to top