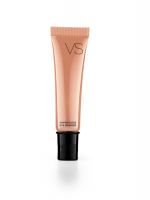 A delightful surprise!

I got this eyeshadow in a sample size and my friend and I used it for the first time last weekend before going out to a party. Wow, it looked amazing. I was so surprised that VS would create such a nice cosmetic product. The instructions say that you can wear it over your own shadow, and after a moment of hesitation and skepticism, we gave it a shot. Of course we didn't rub it on, but it actually ...read moredidn't disturb our already-applied shadow at all. Instead it created a really attractive shimmery gloss over our lid. And don't worry, it's not like smearing olive oil over your lids or anything. It's the consistency of a cream, but goes on totally effortlessly and almost weightlessly. Looks really professional too, just don't go overboard with it, like anything else.

Coolest product

Sparkle and shine! That's what you get with these gorgeous and afforable eye glosses. I have one in the color "Moon Lights" which is a soft gold color. I apply some on top of whatever eyeshadow I've got on and it gives a whole new spin on the look. It's fabulous to keep in your purse to touch up going from day to night. Just run some black liner on your waterlines, dab some of this glossy shimmer ...read moreon your lids and BAM, you're gorgeous and ready for nighttime. I want every color now, they're amazing. I highly recommend. Plus you don't have any of that irritating fall-out that comes with really glittery eyeshadows. You won't be looking like a disco ball here! Just sheer, gorgeous, shimmery color.

Review subject

Way too over-the-top. Not what I was expecting, but a good look for maybe a more glamorous occasion.
Back
to top