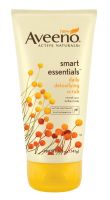 Pros and cons....

I love how this scrub was not drying but I hated how it's not really a scrub. I would say it was more comparable to a cleanser. There are not enough beads in this to actually scrub the dead skin cells off my face. When I put my bb cream and foundation on after using this my skin flakes off along with my makeup. It is really frustrating to have to pick off the flaky skin that this scrub misses. I also hate the rubbery leftover residue this scrub leaves behind. I will have to return this.

Just ok

This is just ok. I use it in the morning when I wake because I find that it does not do well with removing makeup as other washes I have used. I am not sure that I will be purchasing it again. It is just ok. Nothing amazing to report. It smells good and I enjoy the exfoliating benefits.

pretty decent

I like this scrub. I'm not sure if i like it enough to buy it again, but I think it's decent. It makes my face feel clean, and I like the light floral scent but I wish it wasn't so perfumy. People are right when they say this isn't very much a scrub but more like an exfoliating cleanser, so just like for people who use cleansers on a daily basis it's important to use a good scrub once or twice a week in addition to your daily face routine.
Back
to top