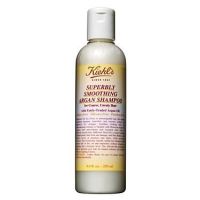 Kiehl's Superbly Smoothing Argan Shampoo
As low as
Argan Shampoo

This really leaves my hair not tangly, really has a light scent. I used to use Fekkai, which I now see is inferior. This is the best shampoo I have ever used. It's worth the money because a little goes a long way.

The best hair line ever!

I can't believe how amazing my hair is now. I got a sample size of the shampoo and conditioner as a birthday gift, when I went for my birthday to a Kiehl's store to buy some gifts for me. These sample sizes lasted 5 times and that was enough to see an amazing improvement on my hair. I have curly, unruly and very frizzy hair, chemically treated and in some time of my life I used to use a straighten...read moreing iron every single day. After those 5 times, I don't even needed sprays or creams to tame the frizz, literally, my hair was extremely shiny, super soft and perfect, like if I had tons of spray. I got a lot of compliments, even from my mom and my sister, and they never would be able to spend $20 on a shampoo, they couldn't believe how my hair looked, and they started to say that really worth the $20. When I ended up these samples and I went back to my regular shampoo and conditioner, my hair was still being amazing, like if these products have repaired my hair. But after my hair started to be the same again, I bought this amazing line. I just love it. Everyone should try this line!
Back
to top