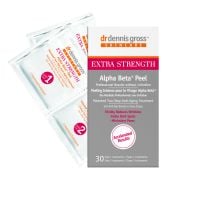 Dr. Dennis Gross Skincare Extra Strength Alpha Beta Peel
As low as
Bad, bad, bad

This product contains a hefty dosage of alcohol, which can cause irritation, dryness, and prevent the skin from healing properly. Even if it didn't have so much alcohol the pH level of 4pt7 prevents the AHAs and BHAs from working as exfoliates. (You need 3-4pH for exfoliation). What puzzles me is the need for step two, considering it is mostly baking soda and water to neutralize all this alcohol y...read moreou are wiping on your face. You could use plain tap water to neutralize any product with BHA and AHA without using some special or frivolous add-on. The second jar does however contain an impressive amount of antioxidants BUT jar packaging quickly diminishes this amount due to exposure to oxygen and bacteria. There is little to no difference between this version and the original, so who knows if this product is just the same thing with a higher markup.

Packaging makes a difference

I bought the sample pack at Sephora and I really liked these and they improved the texture and appearance of my skin. They are too strong to use daily, I applied them three times a week. My pores looked smaller and I had no redness, dry patches, or irritation. This was surprising as usually my skin gets pretty touchy about chemical exfoliants. I would recommend getting the 5 application sample pack and seeing if it works for you.
Back
to top