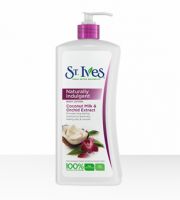 Unbelievable... And Not Just the Smell

St. Ives has been my go-to body lotion brand for forever, and it's not just because their body lotions all smell amazing (heaven+the beach+happiness+joy in a bottle), but also because they work so well for me. This Naturally Indulgent body lotion is no exception. It's extremely light-weight, but is very moisturizing, and the moisture lasts for the whole day. It's also non-greasy, so I also use it ...read moreon my hands for a treat. Another big plus is that it's very natural, so I can feel safe about what I'm putting on my body. To read the ingredients, one doesn't have to break out the chemistry books. This body lotion leaves my skin smooth, silky, and supple, plus the scent is so delightful, it's like this floral scent, but it's not cloying or overwhelming. This lotion is great for both winter and summer, and generally anytime and anywhere. For the price (around $4.00 or less), St. Ives' body lotion is a great value. I would repurchase in a flash. In fact, I think I'll probably start hoarding it, and I'll panic if it ever is discontinued.

Great!

This is a great moisturizer! It lasts almost all day and smells amazing. There is definitely a difference in my skin when I use this. It's not greasy and it absorbs quickly! I would definitely recommend this!

lovely scent

I use this primarily has a hand lotion after washing my hands. It has a very nice fragrance and moisturizes well. I feel it is a bit greasy, but overall a nice lotion.
Back
to top