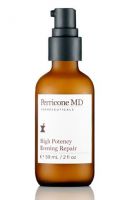 N.V. Perricone Perricone MD High Potency Evening Repair
As low as
Love This!

Dr. Perricone's High Potency Evening Repair Serum is the best OTC Retinol product I have found. You use it at night only and see results quickly. This product diminished the look of fine lines and wrinkles, improved skin tone, and did both without irritation. Definitely worth trying even for high price.

Preventative Retinol Treatment

I bought this because I wanted to incorporate a retinol treatment into my nighttime skin regime. I have read in numerous places that retinol is one of the only ingredients that is actually PROVEN to help fight wrinkles, reverse sun damage and improve the appearance of pores. Perricone's treatment boasts the highest amount of retinol available without a prescription and without the sensitivity. ...read moreSince this is a night treatment, you don't have to worry about sensitivity to the sun, although you should still wear sunscreen during the day anyway. I have been using this every night for the past four months and I have really been liking it. I use two pumps to cover my entire face, focusing on my problem areas (forehead, chin, nose and smile lines). This sinks right into my skin and makes it feel soft and moisturized. Most nights, I follow this up with my regular nighttime moisturizer, but for more oily skinned gals, just this would probably be enough. I have not experienced any sensitivity or peeling from using this treatment. At first, I wasn't confident this was doing much for my skin, except preventing future wrinkles and such. After a few months though, I do think that the overall appearance of my skin has improved. The lines on my forehead seem less pronounced and my blackheads (ick!) have decreased. I still have over half of my bottle left too, so I can vouch that this does last quite some time. I will finish my bottle completely, but I do plan on looking for a less expensive alternative when I am through with this. I do really love this, but it costs $98 for two ounces. Since this is the first retinol treatment I have tried, I think it is worth seeing if Dr. Perricone is worth the price, or if a cheaper version would work just as well. For ease of use and effectiveness, I think this rates a 9 or 10, but I am giving it an 8 based on the high price tag.
Back
to top