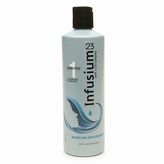 Great product!

This product revived my overly-processed hair. A stylist told me to try moisturizing shampoo/conditioner instead of color shampoo, as blonde highlights won't go anywhere and she said (tactfully) that my hair felt like straw. Anyway, I picked this up years after my aunt raved about it. Long story short, a wonderful, thick formula that makes a noticeable difference in your hair's softness. Greatly recommended.

Great conditioner!

I constantly abuse my hair with heat- blow drying, flat ironing, curling, etc. my hair is extremely dry and this conditioner came to the rescue! it's super duper moisturizing! my hair feels smooth and silky after each use, not to mention incredibly shiny. the smell is nice too, it reminds me of a professional salon shampoo/conditioner.

Great moisturizer - terrible smell

I would rate this conditioner as a 12, if it wasn't for the smell. This moisturizes my hair perfectly, and it's not too heavy on my hair. My hair was also a lot less frizzy which was great. And at first I really enjoyed the smell, because it reminded me of a hair salon, but by the time I rinsed out this conditioner, it was reminding me of my grandmothers perfume - absolutely terrible. I almost ...read morerewashed my hair just to get rid of the smell. However I found that the less time you keep the conditioner in your hair, the lighter the scent, and you don't really need to leave this in your hair for too long to get the moisturizing benefits. Therefore, I will finish this bottle, but probably will not buy another unless they change the scent.
Back
to top