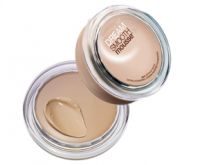 Not So Much

I don't care for this one, I don't like the way it sits on the skin, Turned out shiney when done applying.

Ehh I don't know...

I don't really think this is the foundation for me. It looks a bit cakey and too thick. Doesn't really look natural on me. I'll stick with a liquid foundation because it is easier to blend.

My what BIG PORES you have!

I never really knew how big my pores really were until I used this. I also noticed mid way through the day it started to oxidize and fall apart. Not a pretty look for a pretty girl!