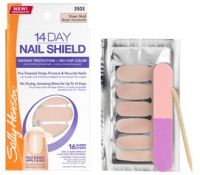 Sally Hansen 14 Day Nail Shield
As low as
Too Expensive

Sally Hansen has the best when it comes to nail care, so I was excited to try these. I liked the idea of 14 days of great looking nails, and the shields were big so I only used 1/2 a shield per nail. However they didn't last and frayed at the edges. The cost + the little time they lasted make them much more costly than using nail polish. Save your $$$

Lived up to promises

This was great! The sticker/cover was a bit hard to figure out at first, but once I got the hang of it they started going on rather quickly. The strips are very long (I tend to wear my nails fairly short), so I trimmed off the excess and then filed it down to match my nail. This did take a little bit of time, but it was still MUCH faster than painting nails and then waiting for them to dry. The...read more shields lasted for over a week and I finally took them off not because they really looked bad (a few small chips here and there), but just because I got tired of them. It also comes with nail shields for toenails. The product worked great on my fingernails, but for some reason I had a really difficult time getting the shields to stick to my toenails. However, I bought them for my fingers and just used the toenail shields because they happened to be there, so that was no big loss for me. I would actually LOVE if they started making this in darker colors. The pink, neutral tones were fine, but I do love wearing dark colors on my fingers, and to have something darker that lasted over a week would be great.
Back
to top