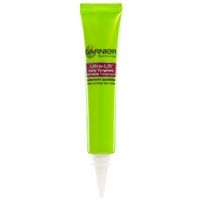 Garnier Ultra-Lift Daily Targeted Wrinkle Treatment
As low as
Falls short of expectations

This tube does not just say wrinkle treatment, but it claims "deep" wrinkle treatment. My wrinkles around my mouth and eyes are getting deeper, I thought this could be a savior. The tube design is ideal just for targeted area. This cream is rich, so it would probably not be good for acne-prone skin. Indeed, the cream softens and smooths my skin....however, it does not plumps or fills my wrinkles. ...read moreThus, I am sad to report that I did not see any noticeable improvement. JUST FYI, I feel that all the Garnier Nutritioniste moisturizer or cream products have the same fragrance. If you don't like the scent of any Garnier Nutritioniste Skin Renew or Ultra-Lift product, you would probably not like the smell of this one.

I like this product.

Let's face it, you are only going to get dramatic results with cosmetic surgery. But this works pretty well on my "worry lines"--the line I get between my eyes. It seems to plump it better than any other product.

Excellent for forehead wrinkles, works more like a tightener/filler

This Garnier Product comes perfectly packaged to fill in lines on forehead, mouth, eyes, etc. Now why I love this product more than any other deep wrinkle treatment/filler is that is blends well and does not feel to have any silicone base to it which is usually what you find in wrinkle fillers. It blends and conditions really, really well while at the same time after a minute or 2 you can feel i...read moret start to pull and reduce the lines immediately. Unlike the other fillers I use, it seems to stay put and has no heavy fill to it at all. I apply it before my moisturizer and it stays put (unlike most fillers which if you do not put them on very last even after foundation, they peel away the minute you add another product to your face. Now as far as the reduction of wrinkles, I am unclear as I use several products on my face which could be helping to soften those lines as well, I am not sure, BUT I will say this.....if placed on before moisturizer and then moisturize, add tinted moisturizer or foundation, it seems to work SPECTACULAR for filling in lines without looking like a filler....I love this product....lasts a long time...wonderful packaging and quite affordable.
Back
to top