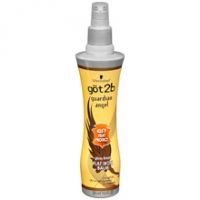 Not For ME

I can't stand the film it leaves on the hair. Looks so flat and blah! No, not for me!

Just ok.

If you put too much of this product you will get a lot of buildup and it will weigh your hair down a lot. Plus it does not really protect your hair that much and it does not smell that great. Just okay for blow drying but not recommended for use with the flat iron. It definitely makes hair a little oily, and on the next day it looks dirty. I have seen much better products out there for a lot less. Like I said, it is just ok for blow drying.

not a fan

this product did little to protect my hair from my flat iron; it flaked a bit and my hair still felt dry at the ends after ironing. the scent isn't that great either. not as good as other got2b products...
Back
to top