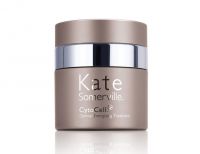 Kate Somerville CytoCell Dermal Energizing Treatment
As low as
Shockingly terribly disappointing

I was excited to get a sample of this. Ouch! It really, really irritated my skin. It turned red and bumpy and stung! I researched the ingredients and found that some of the ingredients are known to irritate skin and sensitize skin such as lavender and bergamot. It comes in a jar which exposes any beneficial ingredients to oxygen, causing any antioxidants to quickly degrade. The jar is also u...read morensanitary because everytime you dip in, the oils and bacteria on your hands end up in this cream. And don't believe that your skin gets worse before it gets better. If a skincare breaks out your skin and makes it uncomfortable, it is not for you. All of this for $150???? I am mad at myself for not checking out the ingredients in a product of this price before trying it--who would have thought? If you feel the need to spend this kind of money on a skincare product, I would look elsewhere (and donate the difference in price to a charity).

Sanitary Bottle and Amazing

I couldn't get enough of the sample which I received for this face moisturizer. After stretching it for weeks but not convincing myself that I could invest this much in a face cream I tried to walk away. Then I went to sephora a few weeks later because I just couldn't get this out of my head...I got another two samples. I used them on "special days" and without daily use I still saw that my skin l...read moreooked extremely great on those day and I had to have it. Eventually I caved and bought it. Im on my fourt jar and it's absolutely amazing. My skin has never been so moisturized and felt so healthy. It's worth every single dime. If you have sensitive skin, maybe this isn't right for you because something is working but if you have normal to dry skin with tight pores in which nothing penetrates well, then definitely get this. This is going to be my favorite forever. I forgot to add...I guess the package has changed because it's sealed and you press the top to get moisturizer out..not a drop is wasted this way, the ingredients have no way of getting bacteria in there and even if you open it when it run out, you will see how efficient this process is.
Back
to top