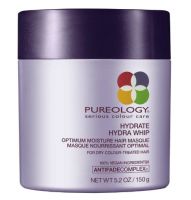 Pureology Hydrate Hydra Whip
As low as
Loveddd it.

As long as you thorougly work the product in, as well as out, it works wonders. (Very important to wash all of it out.) It smells absolutely amazzzzing, and really does leave my hair feeling hydrated afterwards. I tend to like using a light weight leave-in conditioner after using any hydrating mask, only because they seem to not condition my hair in the same way. I really like this product.

Disappointed!

I received this as an "Allure Free Stuff" that I had won and was eager to try it--that was 2 years ago, I used it for the first month I had it and didn't like the results, no shine, no bounce, so-so softness, so I put it under the sink....I've pulled it out a few times to give it another chance, and it hasn't cut it....it smells weird and doesn't deliver. I definitely wouldn't buy it or recommend it.

Fine Hair Must.

This is a must for fine hair. It doesn't weigh your hair down for the rest of the day like most hair repairs. Easy to use. Smell is not overwhelming and a little bit goes a long way. The comb that comes with it is ultra handy too.
Back
to top