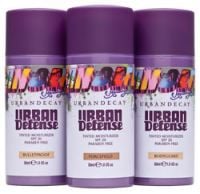 Tinted Moisturizer

I really like this as a primer. It does not stand alone without putting foundation over it. But, it does evens out my skin tone, and gives a good blank slate for makeup.

Okay

This goes on really thick like sunscreen. I didn't like that feeling. There are only four shades and none of them fit my skin too well, I would have to mix two of the shades in order to get close to my tint. I live in the desert so spf 20 wouldn't be adequate for summer time.

I use it everyday!

Bottom Line: I use this tinted moisturizer everyday, and it covers pretty well, but I still need to use concealer and a powder with it, because it doesn't have exactly enough coverage. Full Review: So, I really do like this product. It was one of the first of Urban Decay that I had used. I really only got it because it was super cheap on HauteLook and I desperately needed a new foundation, or som...read moreething. The thing I LOVE about it though, is that I barely moisturize my face anymore, because I wear this everyday, and it keeps my skin from being dry. It doesn't cause me to breakout, and I have pretty sensitive skin, so this is a super plus for me. My one big problem with this, is that there isn't as much coverage as I would like to have in my daily product, but I understand that it is only but a tinted moisturizer, so it doesn't have a lot of coverage. The one thing it kind of helps me cover, which pretty much nothing else does, are my acne marks. I have very light skin, and I have these two awful, and noticeable dark, brown acne scars on my chin, and the tinted moisturizer covers them quite well. I find myself applying this with a makeup sponge and dabbing it on, because I still haven't gotten to the mall to get a stippling brush. I think that once I begin using a stippling brush, the product will have more coverage, which I am looking forward to. The stippling brush will give it a more airbrushed effect, which I hope to achieve. The other products I wear along with this to cover my redness, acne scars, and occasional pimple, are a revlon spa concealer used on only the trouble marks and under my eyes, and a dusting of covergirl pressed powder. I hate cake, and this application of 3 products leaves my skin pretty well covered, and natural looking. My face has a very uneven tone, so it is very important to make it even, which this product does alone, and I like that. Also, many people complain about the pump and the bottle design, but I personally like it a lot. The pump is easy to use, and I hate bottles like the new design is. This may sound very stupid, but because of the bottle change, I may not find myself getting this product again. I cannot deal with bottles with squirty things on the end. I prefer a pump over anything else. Thankfully, the product takes quite a long time to run out, so I still have a good amount left. Also, I got a darker tone for summer, and since summer is approaching, I should be able to use this until christmas, or at least fall. I really like this product, and I think that it is worth getting. If you go to my profile, you will see that I posted a picture of it, because I liked it so much. Since this is probably going to no longer be a product of mine that I use in 6 or so months, I decided to stock up on the Stila sale at HauteLook for their foundations, because I didn't want to end up liking the product a lot and not being able to keep buying it, like this product.
Back
to top