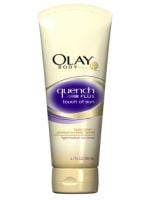 Olay Quench Plus Touch of Sun Body Lotion
As low as
Not bad...not amazing

My favorite thing about this gradual tanning lotion is the scent. We all know about how nasty some self tanners smell! This scent is light, pleasant, and not overpowering. But that's the only thing that stood out to me. It takes a long time to dry (not good when I'm short on time!) and the color isn't the most natural looking on me. The color it gives is quite yellow, so I'm guessing this will wor...read morek the best for people with strong yellow undertones. I'm quite pale with cool undertones, so it didn't look natural. Lots of pros/cons with this product, and it will work for some people and not others.

Not Too Bad

This is the first self tanning lotion I've bought. For 2/3 weeks I applied it every night after I showered. It worked great on my arms, and torso, but on my legs I find it went strangely Splotchy and I had to take a facecloth and scrub real hard to get it all off, which worked. Not sure why it did this, but I continued to use the rest of it on my upper body anyway because I really did like the slight tan and glow it gave me!
Back
to top