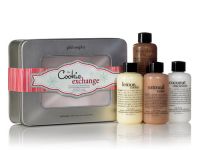 The Cookie Exchange

So you have a friend, you want to get her a fun gift that suits her personality and doesn't include unwanted calories, Philosophy's Cookie Exchange Shower Gels are your answer! This gift of 4 food flavored shower gels can be used as shampoo, bubble bath, shower gel, and/or shaving gel/cream. You will pamper your friend with the most luxurious products for her body and give her a no calorie treat at the same time!

YUMMY Set!!

I got this set for myself a few years ago and only just recently opened one of the remaining bottles. My favorite was the Lemon, absolutely delicious. The Oatmeal was also very nice. I would love to see these in larger sizes, but this is a great gift for holidays and birthdays. The sizes for gift giving are just right and the packaging is darling.

21 Best Soaps

Exclusively from the editors at Total Beauty

Get the Buying Guide to see these top-rated products!

Get it now »

wish i would have bought a different scent( not food)

the product itself was amazing. the lather was never ending. i just could not get past the overwhelming chocolaty smell of the one that i had used. my husband actually liked it when i got out of my bath, so all was not lost.
Back
to top