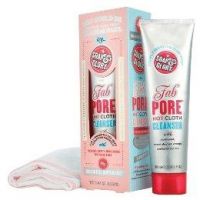 Soap & Glory The Fab Pore Hot Cloth Cleanser
Good...not sure how beneficial it is for the skin.

Want to like this product, cuz its such a cult fave, but not sure if the ingredients have the potential to clog skin and its cream base sort of reminds me of noxema...

Really potent and working like magic for my skin.

Seriously people this is curing the blemish/acne breakouts I frequently get! After buying this a while ago whilst going insanely overboard on soap and glory (a brand I had hated the look off since this spend spree) at boots, I decided to buy two of everything just because I could end up liking it and if I don't then oh well, but this is amazing and it says that itself; "You could b...read moree one wash away from amazing face" The colour is white, it's very much just like toothpaste, very rich when you apply and is easy to move around face, the best part is it rinses clear very fast and skin feels great. 3 in 1 deep purifying, cleanse, tone, moisturise and even exfoliate with the muslin cloth. Now this is a hot cloth cleanser, if you guys don't know what that is then it's basically a cleanser cream like balm that is applied to dry or damp-dewy skin and massaged in and left for a few minutes to work (they contain active oils and ingredients) and then it is removed with a muslin cloth, which is provided with this 100ml tube. So the smell of this product is very herby I sure it's the clary-lavender oil that is giving it its smell, but this contains great luxury ingredients for your skin to drink and feed upon; Panthenol Sweet almond oil Orange oil Lavender oil Cocoa butter Clary oil Rose geranium oil Beeswax This is really good and is surprising cheap compared to the competition which seems very close identical – the Liz Earl Cleanse and Polish. So is this for you? Yes if you have acne, breakouts, blemishes, normal skin, dry skin and even sensitive skin however the essential oils can sometimes aggravate and cause irritation to ultra-sensitive skins, I noticed my skin smoothing and purifying almost after 2 days use So price damage? £6.13 on offer at boots, save a 1/3 after this offer normal retail is £9.19 and I will still buy it at that, this is something you see results with so ill definitely be sticking with it (glad I bought 2 to start with) 2 stars off for the paraben ingredient

Really like this product

After reading about the new lis earle muslim cloth cleanser, i decided to give this one a try. It doesn't foam up, but it does melt your make up away leaving you wtih soft and supple skin! Really love this product!
Back
to top