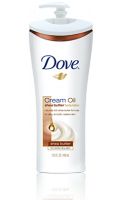 Velvety Smooth...

I'm using this for the first time. I usually just use whatever's cheapest, but this was on sale and I love Shea Butter. My skin can get very dry, especially now that it's getting colder so I really love something that's long-lasting. If the lotion doesn't last, I know immediately because my skin will start to itch the minute it wears off. But this stuff is amazing ~ my skin drinks this in and feel...read mores like velvet afterwards and lasts throughout the day. Not the least bit greasy, sticky or oily. This lotion does have a very strong scent, however. And I have smelled it on my clothes at the end of the day. The fragrance is nice, but a bit much for a lotion. But as far as moisturizing, this stuff is a miracle and my skin feels amazing. Love it.

strong smell

I didn't really care for the scent of this lotion, or the texture, which was a little runny for my taste. It did an okay job of moisturizing my skin, though

Long lasting moisture

I've used this one for 3 yrs and got compliments on how soft my skin was. I've never had skin this soft in my life until I tried this. Unfortunately I'm older (43) and have some health issues that I believe are contributing to my skin being drier than normal and this lotion just can't keep up. Off to find yet another miracle!
Back
to top