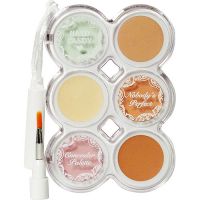 Great assortment

I particularly like to use the yellow to use on eyelids to get rid of red and start eyeshows with a clean slate. The other colors are for undereye and blotches and redness. Comparable to Benefit "Confessions of a Concealaholic, which comes with other sample size products to use like High Beam, lip plumper and an allover gloe cream to mix with moisturizer.

Meh

Kinda hard to blend but it does the job!

At least they got my color right

I have a heck of a time finding any company that gets a light enough yellow that it doesn't make my dark circles darker. This one has it. I also have a heck of a time finding pale rose beige light enough to match me, let alone lighter for highlights, but this one has both, and a darker one for shadowing. Too bad that one had a tar like layer over it, others had oily film, and the brand new pallet ...read moreneeded the surface taken off ever shade before I could start. It's prone to shifting, piling, creasing and caking in really unpleasant ways on bare skin. Blending takes pro skill and a fair bit of time, and what should be a base actually could benefit from a base. If you have to use it, try leading with a layer of mattifying lotion for greasy shades, extra moisturizer for dry ones, but expect only slightly less swearing.
Back
to top