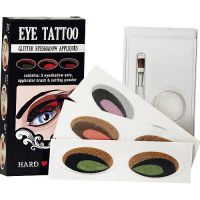 Hard Candy Eye Tattoo Eye Shadow
As low as
A wonderful product.

Staying power, great colors and perfect for doing the smokey eye.

Review: Hard Candy Eye Tattoo Eye Shadow

I have not tried these yet but I think that for a really dramatic look these could really work fot you! I dont think for every day though!

Very disappointing product

I received a fun animal print packet of these to try and they looked like they would be something really fun and amazing after they were applied. 1 packet came with 3 different styles and a setting powder to help make sure that the eyeshadow tattoos did to crease or smudge. The biggest problem that is not advertised about these is that they are cream shadows and if you don't apply them absolutel...read morey perfect the first time they will smudge and slide all over your lid. I've used cream eyeshadows for years to create animal print designs for photoshoots and doing it by hand is much easier then using the pre-made designs that allow too much room for error. These are not something I would suggest to anyone. If you would like to do something a bit wild with your eyeshadow and mimic a leopard print design it's best to use different shades of cream eyeshadows after you have applied an eyeshadow primer and setting powder. Then once your design is complete you will go over it one more time very gently with the same setting powder. I always set my makeup with a mist & set spray after applying setting powder. You defininately want to make sure you are using a primer for everything, setting powder, and a mist & set spray. Your makeup stays looking perfect all day long.
Back
to top