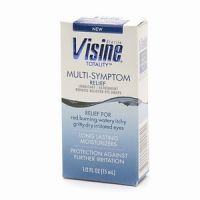 Visine Totality Multi-Symptom Eye Drops
As low as
Put the Visine Down--Now!

Visine is a vasoconstrictor, and redness disappears because your blood vessels cut off the flow of blood to your eyes. With continued use, it actually causes more crimson and you reach for your bottle to stop it more and more frequently. It creates the ultimate Catch-22 and your chances of being permanently harmed by it are high. This liquid can also affect the cornea and cause complete blindn...read moreess. If you need it once in a great while, it is safe. If you find it helpful and rely on it more than once or twice in a month, as I did, you become a junkie. There is such a thing as addiction to Visine--who knew? Lots of women across the country are suffering permanent vision loss because of the drops we thought were as safe as milk. Gather your Visine bottles together. Pull the containers out of your purses, vanities, medicine cabinets, glove compartment, and office drawers and empty into a trash bag. Don't even think about stashing them under sofa cushions or in coat pockets--I know those old tricks. It was difficult for me to say goodbye to something that I had used as a type of cosmetic for much of my life. I find that singing Frankie Valli's "My Eyes Adored You" will help with the pain before you ditch the product for good. So now what, especially if you are plagued with allergies and sinus problems? Make the switch to GenTeal®, an anti-irritant found in the drugstore, my second home, and watch for an immediate improvement. It is completely free of preservatives and will safely lubricate your eyes.

What would I do without this?

I don't know how I could do without my Visine when my eyes start to itch. One thing I do know is that one or two drops when that itch first starts, and I can relax knowing that my eyes will be back to normal before I can finish my make-up. Thanks, Visine!

Works good

I have occasional allergies and my eyes are pretty sensitive, so it can get somewhat irritated and red sometimes. Visine carries a lot of great eye products and this one is pretty good itself. It helps soothe my sometimes irritated eyes and gets rid of redness without it stinging my eyes. But I've tried better, that's why I gave it 8 stars. Visine-A actually works a lot better for me than the Tota...read morelity one. Visine-A does sting a bit, but helps to get rid of redness in the eyes better and faster.
Back
to top