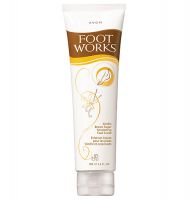 Avon Foot Works Vanilla & Brown Sugar Smoothing Scrub
As low as
So-So

This product has a nice smell, and it works good as a cleanser but, I would prefer more "exfoliation" it didn't hold up to my ecpectations.

wonderful for regular use

This has a great scent and performs well. It's not a pumice stone and isn't designed to do heavy duty scrubbing but it is great for someone who is committed to using a scrub fairly regularly. You can use it on other rough spots, too - though steer clear of your face, of course.

Not too great

This product doesnt exfoliant as well as I would have liked it to. The beads seemed so refined, like what you would expect to find in face scrubs, where skin is much thinner (hey maybe I should try it there). I got two for the price of one and I ended up giving the other away.
Back
to top