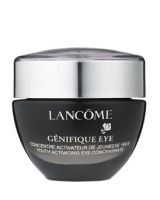 like it

I got a small jar of this eye cream as a free gift with purchase so I can't really say how well this works based on how much it costs. I've been using it for a couple of weeks now and I have to say I really like it so far. I've noticed that my under eye area is smoother and very soft. The fingers that I use to smooth it on (I use my ring fingers, someone once told me that you should always use ...read moreyour ring finger when applying things to your eye area because it is the weakest finger) are softer and smoother than my other fingers as well. I also use this on my brow bone and that area is smoother too. Overall I think that this is a very nice product but if it wasn't free I don't know that I would go out of my way to buy it.

Average, hydrates but does not deliver on promise

My friend was raving about this product, so I ran and got this, as I am always looking for a good eye cream. But alas, I was disappointed. It kind sat on my face and left a bit of a shine which never got completely absorbed. Which is surprising for a gel cream. All hype, no delivery. Way pricey for average.

Pretty Good

My eyes are a total wreck from lack of sleep and stress. I have dark circles, puffiness, and fine/deep lines. I have tried a few different eye creams, and this one helped quite a bit. The darkness of my circles has gone down and it takes away all the puffiness. They also helped with some of my fine lines. The only reason I didn't give this product a 10 is because it is pretty expensive.
Back
to top