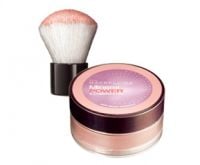 AWESOME FOR THE BODY, BUT NOT FOR THE FACE!!!

i bought this powder thinking it would be like a highlighter for my cheekbones, but it turned out to be pure shimmer and sparkles. it is literally like applying glitter to your face. i was really disappointed with it at first, because there's no way i would step out of my house with all that sparkle on my face. and it leaves quite a mess too when you apply it, because you end up having sparkles ev...read moreerywhere. BUT then eventually i found a good use for this powder!!! it works amazing as a body glitter powder, especially for nights out on the town! i use the kabuki brush (which actually works pretty well for such a small size) to lightly dust the powder over my collarbones, chest and shoulders. and the result beautiful! if you have this product hidden away in your drawer, thinking you'll never use it again, try getting it back out and using it as body glitter like me instead :))

Personally, I like it!

I actually like this stuff. All the other reviews complain that it's a chunky glittery mess making it sound like its some kind of major shiny junk but I'll have to disagree completely! It's a very very thin, sheer, shimmery powder which finishes my daily makeup great. It doesn't seem to clog my pores and it seems to make my face less oily by the end of the day than wearing my usual face makeup alo...read morene. I recommend it if you're looking for an inexpensive illuminator. :) oh and I am a fairly tan girl, and the peach color made me look pretty orange. nude worked out a lot better. I haven't tried pink.

Love it! Jk

Really good. Not. Makes you look so oily and disgusting! Like a little kid!
Back
to top