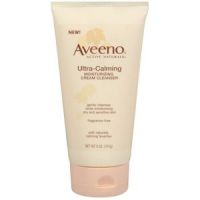 Removes Makeup. Really.

I have sensitive skin that reacts to everything so I have to be careful which products I use on my face. I was previously using Clinique's Comfort Cream Cleanser and feel very good about the trade. It even costs less as you can get it at the grocery store. Yay!!

good product for the price

I like most of Aveeno's products since about 2006. I first started out using the ultra calming foam cleanser but switched to positively radiant when I discovered that foam cleansers can be over drying on the skin. I give this product an 8 due to the fact that the initial use of it still left a little bit of concealer on under my eyes. I found that it gets makeup off better if you rub a little long...read moreer than the time suggested on the package in the areas where the makeup in heaviest. Or if you use an eye makeup remover before hand. It did a good job of removing my mascara and eyeliner when I concentrated on the eye area before proceeding to the rest of my face. I like the fac t that is doesn't over dry and it has done a good job of keeping my skin pretty clear. I do plan to continue purchasing this product in the future.

A disappointment!

Aveeno Ultra-Calming Moisturizing Cream Cleanser is a disappointment! The directions on the bottle read to massage into skin for 30 seconds before rinsing off for a good cleaning. Yes, it does clean, but Aveeno Ultra-Calming Moisturizing Cream Cleanser is actually pretty drying for a cream based cleanser. Is it gentle? Nope. Did it remove makeup? Nope (most face washes don't). Did it m...read moreoisturize my dry skin? Nope. After multiple uses, my skin was left feeling tight, stripped and dry!
Back
to top