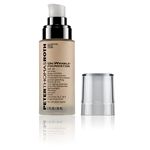 Perfect

I got lucky. The lightest shade matches me perfectly. I think this foundation is geared towards older woman. I'm not old but since I have extremely dry skin, fine lines show up more on me than on oily skinned people. So my biggest concern is foundation sinking into fine lines and looking fake. This doesn't at all, it in fact plumps. I love how it's oil free and it feels nice. Its not full coverage...read more and its not sheer. It's a little under medium which is perfect for me. I don't think someone with oily skin would like this though.. edit:this was too sheer for the price

love this

it is so difficult for me to find a good foundation that lasts and looks and feels natural. this and bobbi brown oil free foundation comes really close to that goal.. justifiable purchase...

The best!

This is the 1st review I have ever written about a beauty product but wow I love this foundation. I was looking for a perfect foundation for my 60 skin I tried high priced ysl, etc none gave me the glow and look this does. I had also trouble in the past matching my medium to olive complexion but tan is perfect and it deemphasizes my fine lines. Stumbled upon this foundation at Ulta now I'm buying his other products.