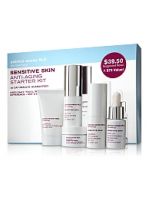 Patricia Wexler M.D. Anti-Aging for Sensitive Skin Starter Kit
As low as
Great way to find a new sensitive skin product

While I didn't have a chance the try the cleanser in this kit, I did use the serum, peel, night cream, and daytime moisturizer with SPF 30 and experienced results I was very happy with. As a matter of fact, I used the night cream until the jar was bone dry and was sad when it was gone! It was just that good :) While I don't think my very fair skin is exactly sensitive in terms of tolerating pro...read moreducts, it does redden very easily during cleansing (thanks to my Irish genes) and can take some time to calm down which isn't helpful when I'm getting ready to head out the door. Unless there's an anti-inflammatory effect somewhere in my skincare routine, I find myself waiting before I can apply foundation and it's super inconvenient. The daytime moisturizer in here paired with the serum really takes down the redness in my skin quickly so I can carry on! Once the serum is on and dry, I don't feel or see it on the skin at all, no residue left behind. The daytime SPF is nice and lightweight, but if I use too much on accident it can be hard to blend down and also has just a little bit of a "sunscreen" scent. I don't really mind the scent part because it dissipates and I need the protection, but you'll see what I mean if you test it. At night, I used the peel under the night cream and had great results. The peel in here is a good choice for sensitive skin that can't tolerate physical exfoliants or if regular lactic/glycolic peels are too strong for you. The night cream makes my skin feel like silk, instantly cuts the redness, absorbs quickly, and also doubles as a fantastic neck cream. I think the price of this kit is a good value so you can decide which products in the line you want to buy full sizes of--all of the products in here are great, but I would honestly pay more than the asking price of the full-size $39.50 night cream if I had to!

Love this line!

I love this line. It was in Bed and Bath for a VERY SHORT TIME, after it was introduced. I loved it! Now, NONE of these sensitive products are in that store! They barely have ANY Wexler products anymore. That is the ONLY reason I go in that store!!! That is why I am only giving it a 7, because of inconvenience of availability!!!!!!
Back
to top