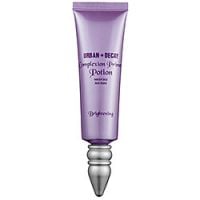 Urban Decay--What Were You Thinking?

There are times when I think Urban Decay can do nothing wrong (the of the "Naked" palettes and liner pencils, for instance), and there are other times when I wonder if they know what they are doing. I am hard to please when it comes to facial primers to be sure, but this was a complete disappointment to me. It did not help my makeup last longer, absolutely did not brighten my complexion, and left me feeling a little slick. I'm sorry I wasted the money--please don't waste yours.

Complexion Primer Potion-Brightening

This does very little. I saw no difference where I applied this product. Save your money - don't buy it.

Urban Decay Complexion Primer Potion - Brightening

I have been looking for a great foundation primer that just brightens my complection up on days when I feel I am not looking so perkiky, and I finally found it. This doesn't have a ton of shimmer, it actually looks natural, but it gives your skin a look of lightness that you may not have due to too many late nights, this made my skin look well rested and healthy, even on the days when I was dragg...read moreing. My cosmetics weren't dragging, nor did I look oily after a few hours of wear. I think my foundation actually applied better as well as lasted longer, I didn't find myself touching up throughout the day as often. I am really pleased with the effect and the wearability of this primer.
Back
to top