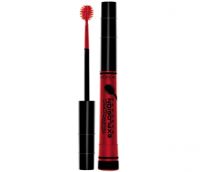 Great Mascara for Contortionists!

The formula of this product is fairly decent--it tints and separates my lashes with little clumping or flaking. The brush is a dupe for Givenchy's "Phenom Eyes," which I don't like at all. There is a way to work with the little ball for long, lush lashes, but it's much like playing the game of "Twister" without the fun. All in all, I'll take another mascara over this one.

An average mascara with a curious (but not very useful) applicator.

The product claims to lengthen, thicken and separate, with no clumping, flaking or smudging. I own the "Black" color. Please note that I have not tried any other spiky-ball applicator type mascara (ex. Givenchy's). PROS: Not too liquidy formula, but not too dry either. Does seem to make lashes look a bit longer. After a long day, including a 5 mile run, the product still looked decent ...read more(Very very slight flaking. Very very slight smudging.) Average ease of removal. Decent packaging (simple, not too big)... the applicator is another story... CONS: The little ball increases application time for me (takes longer to cover all lashes). Even after wiping off excess mascara, lashes end up looking a bit clumpy--however, after using a lash comb, they look pretty nice. The little ball applicator doesn't work as well as some regular applicators, in my opinion. Possibly was very slightly irritating to my eyes. Overall, a fun product to try, but I'm not sure I'd repurchase, as I have to work at it to make it look good (wiping the excess mascara AND using a lash comb). My favorite mascara, at the moment, is Clinique High Impact. No flaking or smudging, and easier to apply.

seperates lashes ONLY

This mascara does not impress me. It did not satisfy my needs. I am looking for a mascara that will lengthen my nonexistent lashes. This mascara will, however, separate lashes effectively. For people who have lots of lashes already, this is a genius mascara. It is supposed to give the fuller look by separating lashes. If you are looking for length or volume or if you have short lashes like me, do ...read morenot come to this mascara. Otherwise, it lasts all day, does not flake, and is fairly simple to apply. BUT the wand is way too long and difficult to control and some of the mascara on the long wand right before the actual applicator got on my face.
Back
to top