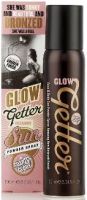 Soap & Glory Glow Getter
Like it

Like the other reviewer, I also mix this with lotion and smooth it on. I have olive skin so I am not that pale but it does look nice. I use it a lot on my legs,chest,shoulders,arms but not my face. It's a decent price and I often find it on sale @ Target. I never heard of this brand before and this is the first product I have tried. It seems to last a long time but then I don't use it everyday. Has a nice smell and just make sure you blend it in.

really good but..

I love love love this product..but i don't spray it straight on, I pump a little lotion in my hand then spray some of the glowgetter on it, mix it up and apply. It really makes it much easier and smoother and still lasts all day! I love it! Great for pale skin, and not orangey at all!
Back
to top