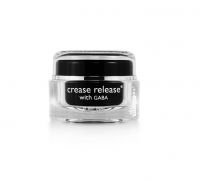 Amazing Results

This product works great, it even helps the puffiness underneath my eyes. I have had people ask what I am doing differently.

Don't Be Duped

For two weeks, I applied Dr. Brandt Crease Release to my crow's feet (what a ghastly decription), my wrinkles, and my crinkles around my eyes. For one week, I applied it to The Hubster's crinkles. (He became very interested in the cream when I told him the tiny jar was worth $150 of Botox-alternative.) The Results: After each application of Crease Release, there was a cooling and tightening sensa...read moretion -- sensation, mind you -- around my eyes for about 40 minutes. The cream also left behind a white, chalky residue. My fine lines and winkles were not diminished one iota. I was ready to toss the jar in the trash. Then The Hubster shouted one morning -- he is deaf in one ear so he shouts a lot --"Beckie, I think the face cream really works." Well, that certainly piqued my interest. The Conclusion: After analyzing his face, we came to the conclusion that the other ingredients contained in the product -- white tea, green tea, and grapeseed extract -- softened his fine lines but did not diminish them. The Husbster is not the metrosexual type and has never thought of applying a beauty product to his etched but lovely face, so when he did apply Dr. Brandt Crease Release with GABA to his crinkles, it successfully diffused and softened his skin. Sorry to tell you, girls, Botox is still the only way to relax your facial muscles. Of course, the jury is still out on the side effects of Botox, mainly the leakage to the brain. At $150 a jar, the return on your investment is very poor. To soften the fine lines on your face, like it did The Hubster's face, you can find a cream containing white tea, green tea, and grapeseed extract at a better price point than Dr. Brandt Crease Release with GABA.

Nothing outstanding

At $150 a jar I expected miracles. What I actually got was maybe some softening of the 11's on my forehead and between my eyes...MAYBE. I'm not sure what the "magic" is that the other reviewers speak of, but it didn't happen here and I have finer lines, not deep ones.
Back
to top