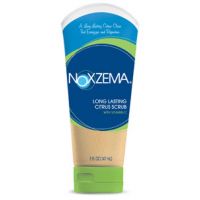 worth every dime!

just started using this product and i am already seeing a difference. I use it 2 -3 times a week and it leaves my skin soft and fresh and oil free during the day...ITS GREAT!!!

Decent Scrub

good in the sense that it's a scrub and performs in that aspect, but apparently it doesn't contain vitamin c....nor does it last very long like it says, after you use it, the menthol is what you're feeling for the cleanliness, so it really isn't necessary, not many of noxzema's products are anything special.

Don't try it!

I first tried this product when it came out and initially my skin looked good. However, after a couple weeks of very minimal use, my skin become very dry and irritated. I know other people who have had similiar problems with it. I don't know how this product has remained on the shelves for so long! I had great skin before I began using this product, and I'm still trying to get rid of the scarring it caused!
Back
to top