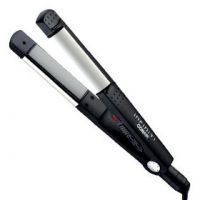 Conair Infiniti
As low as
Terrible

Snags hair, doesn't heat evenly or retain heat, and the plates start coming loose from the unit, so your hair gets caught in the gaps. Awful.

Conair Infiniti Flat Iron Takes more than one Pass

The Conair Infiniti is my first flat iron- the only reason I chose it over all the others was the teeny bottle of Argan oil that was included! The Infiniti is light and easy to maneuver with adjustable settings. It worked pretty well at straightening my naturally curly hair-and gets hot enough to do the job without burning my locks-even when damp. My main complaint about the Infiniti is that it took two or three passes before my hair was 'board straight'.

For people that suck at curling irons and curlers

This is a pretty neat invention! The quality of the product isnt the greatest and your hair can snag in the corners if youre not careful. However it heats up SUPER SUPER fast which is really good. I havent tried it out on all my hair, but i did some of it and it curled like it said it would. Theres also a dvd that comes with it....i have yet to check it out but im SUPER EXCITED! So glad I got it. ...read moreI sucked at using a curling iron or curlers. Cant wait to use it some more. Okay so I have been using it a little more and its not THAT great. Its definitely not bad....but it takes a little time and doesnt look very polished. Im contemplating returning it. Not bad but not great.