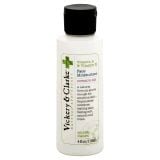 Vickery & Clarke Vickery & Clark Face Moisturizer
As low as
Rivals my favorite!

I've been a fan of Alba's Sea Lettuce & Algae Cream Cleanser for a few years now. And this is the only thing that compared... and its organic as well. Its perfect for my sensitive combination complexion that needs a little extra care.

The Best!

I have to agree with the rating...I have never been so pleased with a moisturizer in my life! From it's light, fresh scent to the incredible way my skin looked and felt, I give it 10+ stars. Unfortunately, after having it in the stores for a very short period of time, I can know longer get it at CVS. Does anyone know where I might find it?

The best moisturizer ever!

I'm being serious when I say this is the best moisturiser I have ever had! It is light, but keeps skin smooth and glowing. It's not too heavy for the summer, and not too light for the winter, its just perfect! Plus its ninty-six percent natural (whatever that means) so it feels really natural and absorbs well into the skin with no greasy feel. It has ingredients that are good for the skin, like vi...read moretamin E and aloe vera. Keep in mind that all skin types require different moisturisers. This one is good for normal to dry skin, but not for people with overly oily skin. I am prone to pimples, but I still use it and it doesn't cause any breakouts. In fact, my skin has improved drastically. It has a nice clean smell too.
Back
to top