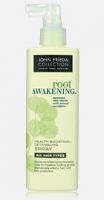 works ok

I've been using this for 3 months and haven't really noticed a difference in the health of my hair. The scent is nice but the ingredients are not that great compared to better natural brands. I bought this for real cheap to try it out. I will not buy it again though.

Not convincing

It works ok as a detangler, but I didn't notice an improvement on my hair's health. It is quite pricey to just use it for a single purpouse, so it was a fail purchase for me. There are far better and inexpensive detanglers and there are much much better hair treatments than this.

Does What It Claims

This product does exactly what it claims. detangles your hair. As far as their nourishing claims, I don't see a difference in my hair.You don't need a lot of the product for it to work, just around 3-5 pumps, so the bottle will definitely last you a good while. You can smell the eucalyptus sort of natural smell, however it is not overwhelming. I like the fact that it has heat protection. Overall, it does what it is mainly supposed to do.
Back
to top