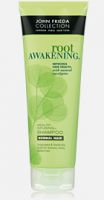 Not for everyday use

This product made my scalp and back itchy. It smells like John Frieda shampoo with a hint of mintiness. I am not sure what eucalyptus and mint oil does for hair, but they are known skin irritants (not good for your scalp). For that reason, you probably should use it only occasionally if ever. It also made my hair slightly frizzy.

Dissapointed

I bought this shampoo and conditioner because I had read good reviews but it just plain ok, it doesn't leave my hair extra soft or with volume it leaves it normal I guess its good for the price

great buy!

This smells sooo good! Also, the smell still lingers on after the shower so its fantastic! My hair became noticeably shinier after this, however the only con about this product is that the price is a bit too much for my taste.
Back
to top