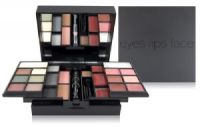 ELF Equals Exceptional Value and Beauty!

Yes, I am addicted to palettes, and few have nearly everything you need for your face. ELF is an exception. What is NOT to love about ELF's "Mini Makeup Collection?" I have this one-kit-takes-care-of-nearly-all in "Festive" and could not be more pleased (and imagine--for the price of $15.00, not counting sales and/or discounts!). The eye shadows range from one basic one in creme to powder ecru...read more to beige to chocolate, deep blue, and amethyst. The lip glosses come in a range of pinks/lavenders, beiges and tans, and sultry reds and red/brows. I love the included blush in pink, a bronzer, a small eyeliner pencil, eyebrow color, and on-the-go applicators. This is a palette which you can take by itself, only bringing along mascara if you need to so do (and I do). The palette is now available in "Fresh," which I currently have on order. Shadows in this palette include a cream champagne color, powder amethysts, bright blue, browns, copper, white, and an array of beiges and chocolate. Vibrant lip glosses come in beige, beautiful hues of pink, red/brown, berry, and deep purple (do you hear the "Smoke on the Water" playing in the background?). This comes with a vivid fuschia blush, a gentle shimmering bronzer, an eye pencil, and eyebrow powder in a universal shade. These are fun, spring/summer shades, made to flaunt your best features! I find the pigmentation quite good. All of the products apply and blend well and last a long time. I couldn't possibly ask for me, especially given the price! I have a great time blending the eye shadows and lip colors to create unique shades (I generally wear the lip shades over a long-lasting base, as I do with the eye shadows). I use the blushers and bronzers for a sedate or a sun-kissed look. And the eyebrow color is especially handy when you have sparse brows like mine. I would give this a hundred stars if I could. Yes, I've used the most pricey makeup available, and this works very well for me!

my number one

this is amazing!!! it comes with 3 mini studio brushes, 9 lip glosses, 9 eyeshadows, 1 cream eyeshadow, 2 blushes, 1 glitter gel, and 1 bronzer. LOVE

Great for traveling

This has all the colors you need to create day and night looks! The brushes are cheap, so toss them and take quality brushes with you! This is very airport friendly, so you can do your makeup in the plane, and have people wondering "Where did she get that? I want one!"
Back
to top