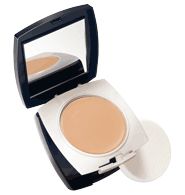 Heavy feeling.

I wanted to like this, but it felt gross on my skin. Didn't do much in terms of coverage and started looking oily within a few hours. The packaging is a little bulky and feels cheap.

Not Enough Coverage (Not Even Sheer)

What I like about the this foundation is the color (M205: medium) which blends well with my skin color. I also like the package with a sponge applicator stored under the foundation. BUT unfortunately, the most important part of the foundation, the coverage, is inferior. It does not conceal my pimple scars, sun damage, and not even pores. The creamy texture was attractive at first, but when I sweat...read more, it comes off easily. The sponge soaks up a lot of the make-up, thus I feel it is wasteful. Also, I don't know why someone decided to add a strong fragrance into this foundation. The smell is quite strong, very flowery perfume scent. That's the biggest no-no for me.

AMAZING!!!!

I already had the regular Magix and decided to try the tinted version. Man, my skin looks so good. Its like my real skin, but better, hiding your imperfections. I absolutely love it!
Back
to top