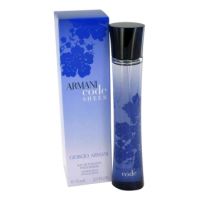 Giorgio Armani Code Sheer Eau de Toilette
As low as
Maybe when I'm older

I'm 26 and when I sprayed this on I felt 36. It wasn't necessarily an unpleasant smell, but it seemed very traditional and not very me. I spent the rest of my mall trip furtively wiping my wrists on every available surface, hoping to wear down the scent. I was afraid someone would call me "ma'am" and offer me wrinkle creams or mom jeans while I was wearing it.

Yeah, and water is sheer, too

Okay, so this smells wonderful. "This is the newest version of armani code, sheer's reworked juice features orange blossom, cyclamen, jasmine, lily of the valley and honey." Oh the delight I felt when I first spritzed it on! Oh the sadness when an hour later I couldn't smell ANYTHING at all, even when putting my pulse points directly up to my nose. I thought maybe I'd just gotten used to it so I a...read moresked Mister what he thought of it. "I don't smell anything. Oh, wait, is that your shampoo? I think I'm smelling your shampoo. Yep. That's it." So he could smell my shampoo from 12 hours prior better than the perfume I'd been wearing for little over an hour. For $67.00 that's just a little TOO sheer.
Back
to top