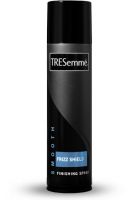 Smooth/Frizz free

This is my go to spray for now when I'm done styling my hair. I think it keeps my hair smooth and keeps it from getting frizzy just like it says.

good

Nothing amazing or new than yge cheap suave stuff, but works well

heart this

Ive had this spray for a while and only use it on really humid days. But when i do use it the frizzies stay away all day(even when its rainy!) i have no complaints about this spray...TRESsemme never disapoints!!!
Back
to top