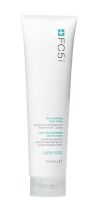 Arbonne FC5 Ultra-Hydrating Hand Creme
Best hand creme I've ever used

I used to use Avon's silicone glove hand lotion before I was given Arbonne's FC5 Ultra-Hydtrating Hand Creme. This lotion is very absorbent and the moisture it provides and seems to lock into my skin is amazing. I use this creme specifically for manicures either on myself or on clients. It feels amazing on my skin especially when it's being massaged into your arms, hands, and fingers. I also have ...read moreFC5's Cooling Foot Creme for pedicures and it is the best foot creme I've ever used. Arbonne's FC5 line is another incredible product line to come from Arbonne.

killing my cuticles

I have very sensitive skin, that cracks & bleeds if unprotected in the cold weather. I use hand cream every night & after 2 weeks of using this i am finding i have dry, ragged cuticles on every finger & hangnails on every finger. I think whatever in it that makes it non-greasy is killing my cuticles. I have never expereinced this reaction to any cream before & I'd classify my reaction as really bad. Maybe it is too drying for my skin?

Love this!

I do not leave my house without this product. I live in a dry, cold climate so I'm always having to slather on hand cream. This cream is non-greasy and soaks into your hands quickly. And the smell will knock your socks off. My friends love borrowing it!
Back
to top