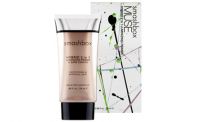 Smashbox Muse Hybrid Luminizing 2-in-1 Primer
As low as
gorgeous

this is amazing! i was sad that it was a limited addition (last time i checked at least) because i wouold love to use it again. the primer part smooths pores and lines and keeps maekup on, and the luminizer gives you a beautiful dewy glow. th eonly problem is that both products dont come out of the tube evenly. you kind of have to be careful and block off the luminizer to make the primer come out since it is thicker. other than that, its amazing.

Fantastic products; delivery not-so-great

This is one of those purse items that makes all your girlfriends 'Ooh' and 'Ahh' when you whip it outin the cloakroom. Individually both the primer and luminizer are incredible. The primer is silicone based and leaves your skin baby soft and gorgeous, ready for a touch of glam. The luminizer delivers perfectly in that department -- adding just the right amount of shimmer is a cinch, because the pr...read moreoduct spreads so well. A little goes a long way, so don't overdo it, unless you want people reaching for their sunglasses when you step outside! My only complain with this is that because the different consistencies of the two products, they squeeze out of the tube unevenly. To get it to work well, I have to block off the luminizer side so I can squeeze out the primer. I will repurchase this - but as individual products. The 2-in-1 idea looks good on paper, but in practice it doesn't work so well. 8 stars, mainly because of the messy product delivery.
Back
to top