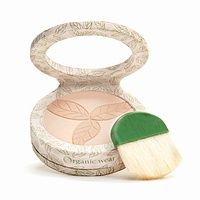 Physicians Formula Organic Wear 100% Natural Origin Pressed Powder

I like wearing powder rather than a foundation, but most mineral foundations contain a lot of bismuth, therefore they are just too shiny for my oily skin. This powder on the other hand has very little shimmer and the finish is nice and light. It evens out my skin tone and it is nice and light on the skin. I have been using the Translucent Medium Organics and it is a really good match for me. I...read more didn't have to touch up more than once, it didn't pool in my pores or emphasize my fine lines. I was very pleased with the look my skin aquired while I wore this powder. Don't use the crummy little brush that comes with it, use a good face brush or a flocked sponge for best results. It blends very well and has a really nice texture to work with. It didn't irritate my skin or cause break outs, so I will continue using it.

Review subject

I was looking for a powder that did not contain talc or other harmful ingredients. I am almost through my first container and just purchased a second one. The only reason I didn't give it a 10 is because the brush, as many others have said, is absolutely useless. It doesn't pick up the powder, and the little that it does, it just falls off the brush before it can get on your face. I use a makeup s...read moreponge instead, and it works great. My face makeup routine includes moisturizer, BB cream, concealer, and then I blend and finish off with this powder. It keeps the shine down and even covers the blemishes that my makeup won't stick to.

Review subject

It's always difficult for me to find a good powder but I honestly really like this stuff! It hides blemishes really well. Although, the brush doesn't work too well so I would recommend your own brush. Other than that, it's a great product.
Back
to top